How one client project challenged our team to maintain an extreme contrast ratio while avoiding light bleed
Every project we work on is different. While some are pretty straightforward, others challenge us to push the envelope with our light guide technology to achieve the most effective and efficient solutions.
The High Contrast Ratio Challenge
Recently, one of our customers wanted to achieve a high contrast ratio – the difference in luminance between the brightest color (white) to that of the darkest color (black) – of 10:1 to distinguish the power status of an electronic application.
While we've achieved high contrast ratios before, the thinness of the application and closeness of the light guides and LEDs to the surface made controlling light bleed more challenging. When the device was supposed to be "OFF," it wasn't hitting the contrast ratio our customer desired.
RELATED CONTENT: GET ULTRA-THIN WITH TAPERED LIGHT GUIDES
As a result, we needed to create a custom solution to achieve the right distinction ratio, while maintaining overall brightness and uniformity targets.
Two Light Guide Solutions to Hit Contrast Targets

Solution A
Solution A leveraged one light guide within the device to illuminate 10 smaller LEDs. This option was more cost efficient due to minimal design work and production. However, because the light guide is clear, it was difficult to control light bleed completely and the distinction less obvious.
Solution B
Our engineers got a little more creative with Option B.
They designed 10 small (very small) light guides, with one LED per light guide, and assembled them together with our patented optical features. These optical features enable us to exert better control over where the LED light can and cannot travel. This prevented light from spilling over into the section next to it.
With limited light bleed, we were able to achieve the desired contrast ratio.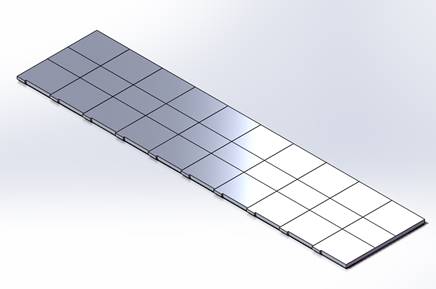 (Image: Full assembly of 10 light guides. There is one LED per light guide)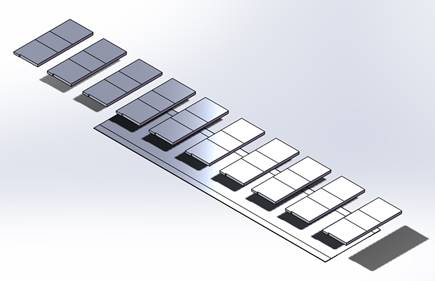 (Image: Exploded view of 10 light guides)
Decisions and Key Learnings
While our customer was happy with both solutions, Solution B – the 10-piece light guide design – was far superior.
While this level of exploration requires a lot of heavy lifting, we were able to minimize costs by leveraging our own optical features and internally managing design and production. In fact, our in-house lasers enable us to cut and test each of the light guide components.
Ultimately, this project was a huge win because we had a happy customer (our top priority), and we learned a lot about the strength of our light guide technology and in-house expertise.
When you need a custom lighting solution or help taking on a new challenge, contact our lighting experts.