Value-Added Assembly
LEDs

Today's state-of-the-art LEDs have come a long way in terms of offering more brightness in a smaller package, and ongoing advances in LED technology are enabling LCD backlight manufacturers to better meet the ever-increasing challenges posed by small displays used in portable and handheld products. They're available in a broad range of colors – white, green, blue, red, orange-red, amber and more. There are even LEDs that can achieve the full array of colors in just one package, making it possible to light your display in any hue from just one LED. And they're getting ever smaller, too. Today, the thinnest production LEDs are around 0.3mm high, and packages are continually getting smaller.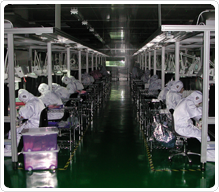 LED DESIGN CONSIDERATIONS FOR BACKLIGHTING
The LED package you choose, the number and spacing of the LEDs, and the LED current determine what levels of uniformity, brightness and overall visual smoothness you get. GLT offers multiple LED packages to meet your mounting and space requirements, and we can recommend a light source configuration to meet your product specifications. Available packages include LEDs for surface mount cellular phone or PDA applications.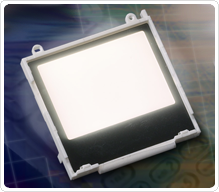 A key technique used to enhance uniformity is lens arrays. Lens arrays are light distribution features that are located on the edge of the lightguide (in front of the LED), and they help to provide for a uniform visual appearance using a reduced number of light sources by increasing the angular output distribution of the LED, while minimizing the hot spots that can occur when an LED is too close to the viewing area. Using lens arrays permits a reduction in the number of LEDs required while still achieving a uniform backlight. This enables cost, space, component and power savings.
Lens array design capabilities for LED-based backlights offered by GLT include:
State-of-the-Art Ray Tracing Software
Proprietary Light Source Models
Rapid Prototyping
Films
Here are Brightness Enhancement and Diffuser Film Configurations that can be employed with molded lightguides utilizing GLT's optical extraction features to increase LCD module output: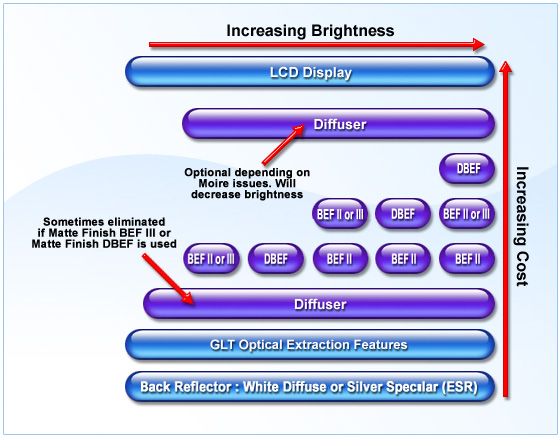 Adhesives
Double sided clear

Typically used in a backlight to adhere the films to the lightguide surface. Strips are used along side the output area as the adhesive can pull light out of the panel.
Thickness of adhesives range from 0.1-0.5mm.

Thermal

Typically used to adhere a FPC or PCB to a heat sink surface to dissipate heat away from the LEDs.
Masks
Black / White

Typically used as light shielding/reflecting surfaces on top of the lightguide surface.

Double / single sided.
Release Liners / PET
Generally used as protective layers for top surfaces of lightguide assemblies.
Housings
The material used for a housing is generally a White Polycarbonate.
They act as a back and edge reflector surface for the lightguide.
A housing can provides a "package" in which the lightguide, films, PCBA, etc. can all fit within.
They can typically hold all the assembly components together through a mechanical fit.
Customers also use housings to attach lightguide assembly to their PCB or other components which can make their assembly more simple.