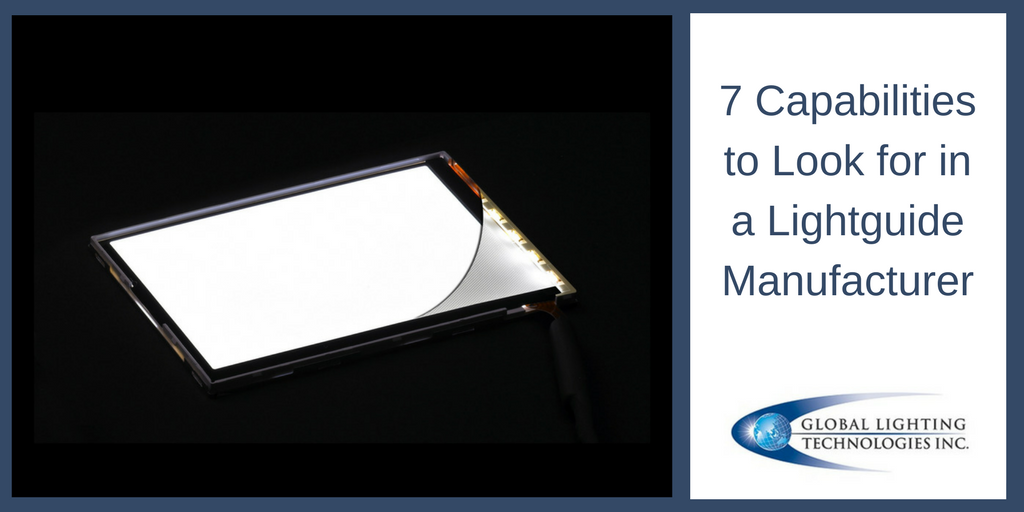 How to Choose a Light Guide Manufacturer
Before taking on a new project, it's important to get a sense of the type of capabilities that a dependable light guide manufacturer should be able to offer. All companies aren't created equally, particularly when a custom lighting solution is needed. So it's essential to find the right match.
Let's look at seven of the most important capabilities to look for.
1. Optical Expertise
This means having the right technology and the right staff to handle precise, high-tech optical design. When considering a light guide manufacturer, you should confirm they have at least one, if not more than one, type of ray tracing and design software. Also, consider how they're able to extract light from a light guide, including laser etch, chemical etch, and optical lens designs. A light guide manufacturer should also have an in-house optical design engineer.
2. Optical Design
Building further on this, there must be strong experience with all the different components used with optical systems. This includes the effect of assembly on the optics, and the overall ability to design effective and precise optical systems.
3. Intellectual Property
Who controls the IP for the core technology being used in the system? If it's not the light guide manufacturer itself, there could be litigation issues down the road.
4. Molding
A great optical design is one thing, but it won't get the job done if materials aren't properly molded. Look for expert manufacturing capabilities for optical plastics and molds with optical surface finishes, as well as clean facilities for assembly and injection.
5. Inspections
Inspection capabilities are also key for any light guide manufacturer. They should have the proper equipment for inspection and measurement of high-precision plastics, as well as camera and optical inspection systems.
6. Manufacturing & Assembly
Optical components require special care during manufacturing and assembly. Look for a company with the appropriate experience and capabilities here, and once again, clean facilities.
7. Cost-Effectiveness
There's no reason that all of the above has to be prohibitively priced. Look for a light guide manufacturer who owns their own factories and completes all of the design work in house, which means there's no need for more costly consulting or subcontracting.
Global Lighting Technologies is a leading light guide manufacturer. With almost 20 years of successful experience, more than 1.75 million square feet of manufacturing space, and over 70 in-house engineers, we are capable of handling any type of unique project or scope. Contact us here to learn more about our products, services, and technology, or call 866-922-4584 for direct assistance.