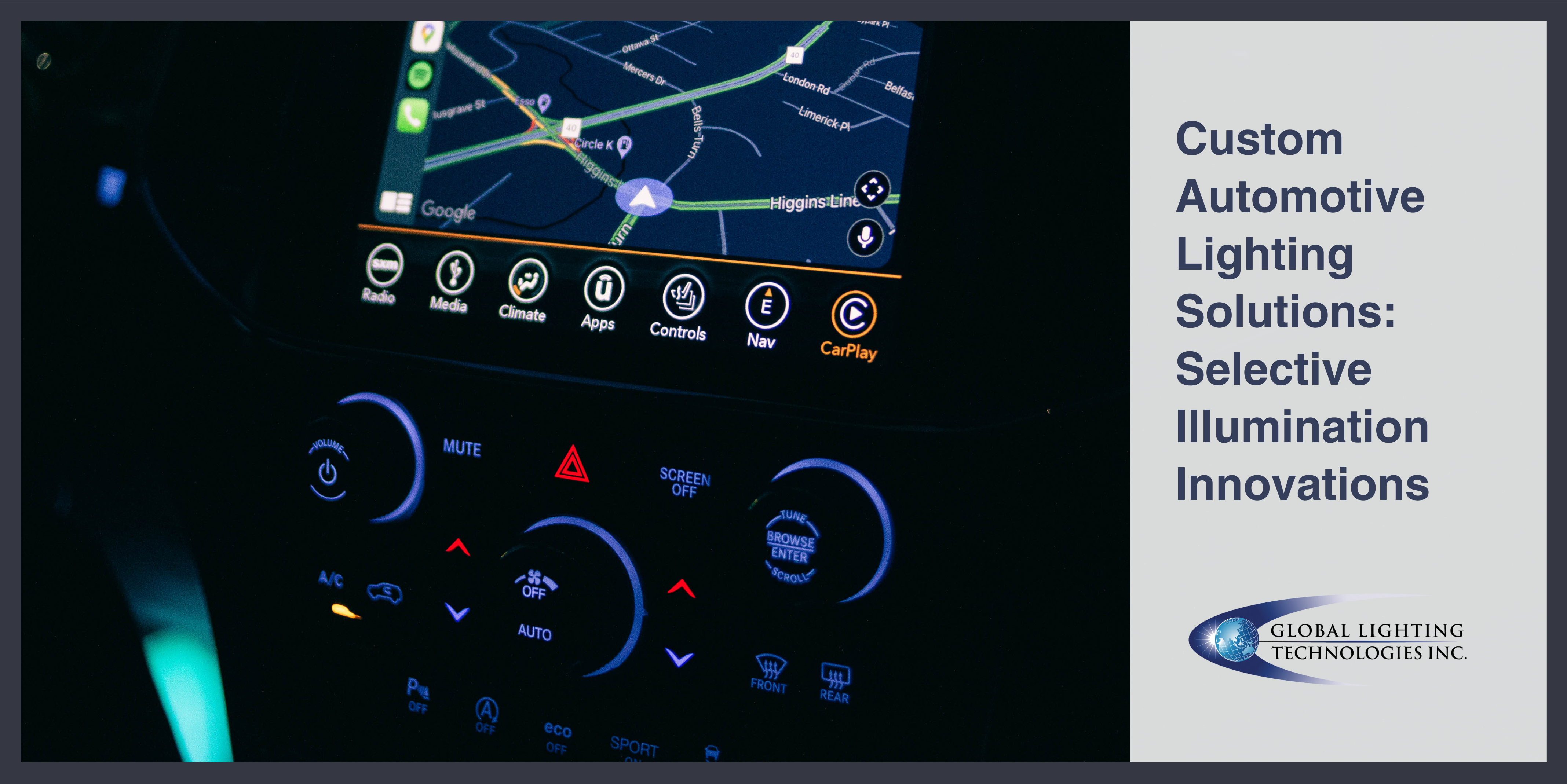 Selective Illumination Innovations Drive
Custom Automotive Lighting Solutions
When you have specific goals that your custom automotive lighting solution needs to meet, selective illumination innovations are often the answer. They involve the strategic control and manipulation of light sources within a vehicle's lighting system to achieve objectives that aren't just attractive, but also create a better user experience. 
The light guide design experts at Global Lighting Technologies create custom automotive lighting solutions for manufacturers. Read on to see how selective illumination innovations can be applied to automotive lighting features like: 
Instrument panels

 

Navigation systems

 

Rear camera displays

 

Foot well pockets

 

Door sill plates

 

Indicator lights

and t

ail lights

 

Decorative illumination

 
Custom Automotive Lighting Applications
1. Instrument Panel Illumination
Instrument panels are the hub that control a vehicle's interior. From AC levels to speaker volume, an instrument panel houses important information and benefits from LED-based edge-lit light guides. Light guides provide a range of advantages that can help increase visibility while still maintaining a modern and sleek look.  
With the right light guide design, instrument panels can be enhanced to create an optimal driving experience. 
2. Navigation System Lighting Solutions
The greater area around the navigation system is full of opportunities for custom automotive lighting like on radio buttons and displays, steering wheel user interface buttons and keys. Our unique approach to solutions with custom light guides improve performance. Our experts have enhanced current light guide technology to feature improved sensory feedback for illumination triggers, among other automotive lighting solutions. Learn more about our custom automotive lighting innovations here. 
3. Rear Camera Display Backlighting
Like navigation systems, rear camera displays are helpful to drivers but often suffer from poor visibility in certain lighting situations. Many newer vehicles' rearview mirrors include displays that can show live feed from the backup camera. Our custom light guide solutions can take your rearview camera display to the next level with LCD backlighting to amplify brightness, enhance uniformity and maximize efficiency.  
4. Foot Well Pocket Illumination 
Foot well pockets are another area where LED-based edge-lit light guides create a premium vehicle experience. Their slim form allows them to be integrated into smaller spaces without sacrificing visibility or performance. Our custom light guides are uniform, thin and efficient, making them ideal for this application. Additionally, the durability of the technology ensures that these light sources remain functional for extended periods of time.  
5. Door Sill Plate Design with LED Lighting 
For safety that's also stylish, consider illuminated door sill plates. Custom door sill light guides provide illumination without compromising on function or reliability. At Global Lighting Technologies, you can collaborate with our lighting experts to create a custom solution that's unique in size, color and brightness. 
6. Indicator Light and Tail Light Design for Vehicles
Older styles of indicator lights and tail lights don't evoke any excitement; they're purely practical. Now, we can elevate the style of them both with LED-based edge-lit light guides to create any number of looks that are stylish, slim and consume less power.  
From different sizes and colors to movement that indicates a turn, indicator lights and tail lights can be customized to fit within an auto manufacturer's vision for a vehicle. 
7. Decorative Illumination for Automotive Interiors and Exteriors
As an auto manufacturer, you already know that decorative illumination is an important part of any vehicle's design. Gain a leg up over the competition with LED-based edge-lit light guides. With our innovative automotive lighting solutions, you can create a custom look that highlights key points on your vehicles like the logo. 
We also apply our revolutionary technology to charge port illumination for electric vehicles and door handle illumination. Slim and efficient designs allow for a wide range of color options that can be tailored to fit any car brand. With the right combination of technology and creativity, these light sources can help craft an impressive interior and exterior design that is guaranteed to turn heads.  
Selective Illumination Innovations Power Custom Automotive Lighting
When it comes to improved safety, convenience and overall driving experience, selective illumination innovations cannot be overlooked. Our revolutionary light guide technologies offer solutions for various custom interior and exterior automotive applications. Learn more about how Global Lighting Technologies can help you achieve higher uniformity and increase brightness with our automotive illumination solutions here.  
Connect with the Global Lighting Technologies team to begin working with our skilled engineers to bring your bright idea to life!