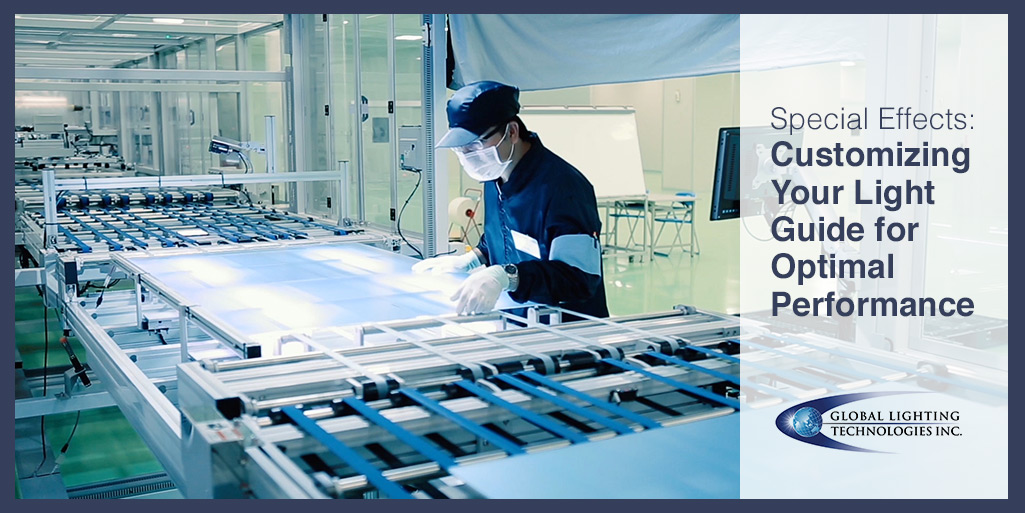 Enhancing Light Guide Solutions to Meet Complex Project Requirements
At first glance, light guides seem fairly basic. They're made from optically clear polymers such as acrylic (PMMA) or polycarbonate and come in a variety of shapes and sizes depending on your needs. But don't let the simple design fool you. There's a lot more optical design and customization that goes into developing the right light guide for you.
Light Guide Design Options
Light guides take focused light from an LED source and spread it evenly across a surface area. Depending on space, brightness and uniformity targets, customizations can be applied to the light guide structure to change the light shape or distribution pattern to achieve the desired end result.
Here's a quick overview of some of our most common optical design options:
Light guide with cutouts: A cost-effective way to create illumination zones and decrease backlight bleed is by making cuts into the light guides. The cutouts allow the light to remain within one area of the light guide. While some light may escape, it won't spill into undesired areas.
Light guide with bend: A light guide made with a 90-degree angled zone helps light rays reflect around corners. This design is common when the end product utilizes surface-mounted, top-emitting LEDs that can be used in decorative light applications that accentuate an emblem or logo.
Light guide with molded lens features: These light guides can be manufactured to suit various types of LEDs. Typically, surface-mounted LEDs may be too focused to distribute light properly within a light guide application. In these instances, a lens spreads the light and shapes the output over a surface area.
Additional Light Guide Components
Beyond modifying the light guide structure, GLT has developed other components to ensure light rays are utilized as efficiently and uniformly as possible.
Here are common add-ons to be aware of:
Back reflector film: You can attach a thin film to the back side of the light guide to reflect outcoupled light rays that are opposite of the intended surface.
Diffusor film: In some cases, directing light from the optical extraction pattern disrupts the end user experience. However, you can apply a diffused film to disperse the light and create a uniform image.
Housing and trays: By adding an injection molded housing or tray to a light guide, the assembly can include clips or holding features for utilization in the final assembly. The housings are typically made of a white reflective material that prevents light from exiting the light guide in unwanted directions. This can increase efficiency while simplifying the number of components in the assembled product.
Mask film: This component eliminates any bright areas on the top surface of the light guide caused by light being emitted outside of the intended region as well as hiding components from the end user.
Find the Right Light Guide Solution for You
Ultimately, your requirements dictate the light guide design and components that are best suited for you. You can trust that the versatility and flexibility of our solutions will deliver optimal effects for you and the end user.
Would you like to learn more about our custom light guide solutions? Contact our lighting experts today.