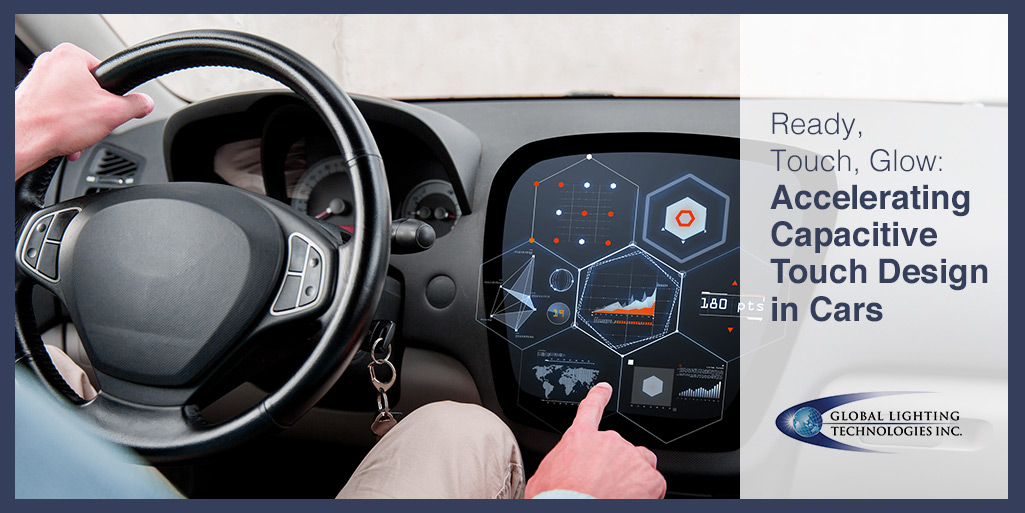 Effective Illumination: Light Guides for Automotive Applications
Mechanical buttons may soon become relics of the past permanently thanks to capacitive touch technology, especially in automotive lighting solutions. Capacitive touch design relies on the electric properties of our light touches, flicks and scrolls to perform key actions.
This technology is so common today that we most likely take it for granted. From mobile devices and watches to retail kiosks, thermostats and security systems, capacitive touch has become part of our everyday lives.
We always strive to take established technology to the next level with our lighting solutions. Read on to see how we innovate light guides for automotive applications where safety and communication are critical.
Capacitive Touch in Cars
You've probably seen capacitive touch incorporated into some cars' consoles to control HVAC, navigation and radio functions, but its use is not as prevalent as in other industries. Why?
Long design cycles are one reason for the slow adoption. There have also been concerns that drivers rely on the feeling of pushing buttons to understand whether an action has occurred. Initial touch sensors on the market yielded minimal tactile feedback, requiring users to divert their attention and wait for screens to visually change to know if their interactions were successful.
Touch Feedback Improvements
As more automakers implement capacitive touch, our lighting experts have enhanced light guide technology to feature improved sensory feedback. Here's how we innovate automotive lighting solutions:
Illumination triggers – A light guide within a capacitive touch assembly allows for illumination of icons, text, logos and graphics. These elements light up when touched, so the user recognizes that an action has been detected. This is especially critical for night driving.
Ultra-thin components – Conventional buttons are illuminated by LEDs placed directly below the button; capacitive touch technology requires a more nuanced solution. The touch sensors must be located directly underneath the icons on the overlay for effective illumination. Fortunately, our ultra-thin edge-lit light guides(as thin as 0.2mm) can be placed between the overlay and the touch sensor, enhancing the device's detection capabilities.
Enhanced system efficiency– Our light guides enable manufacturers to use fewer high-efficiency LEDs to achieve the desired illumination. This reduces production and assembly costs, while also decreasing the device's overall power consumption.
Capacitive Touch for Automotive Lighting Solutions Impact
This style of design and sensory feedback needs to be intuitive and reliable to deliver maximum impact within automotive vehicles. In addition to delivering improved color, uniformity and efficiency, our light guide technology allows users to complete tasks faster and safer, making the in-car experience even better.
When you need light guides for automotive applications, custom lighting solutions or help taking on a new lighting challenge, contact our team of experts.