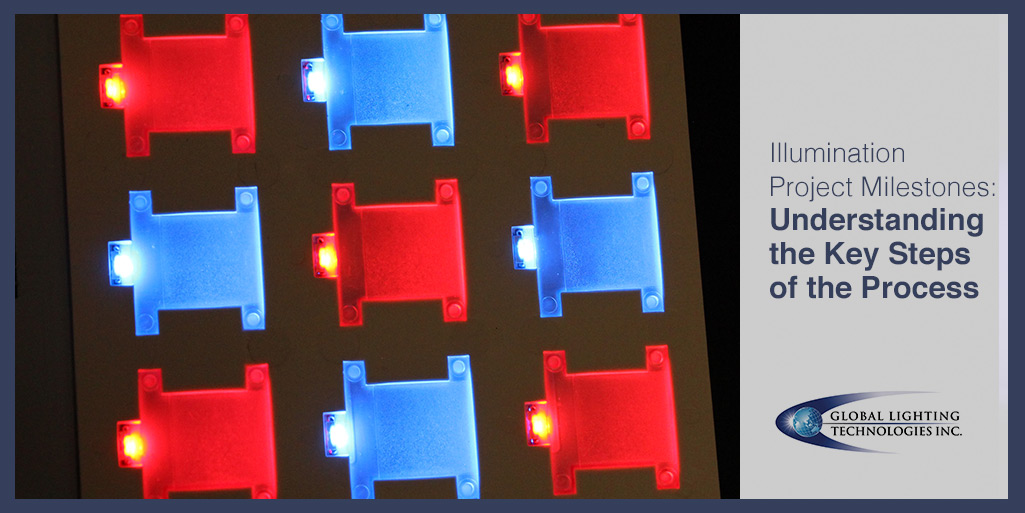 Light Guide Design: Meet Your Needs & Budget
Any light guide design project requires strong project management. Whether the illumination project involves enhancements to an existing lighting application or the system needs to be developed from scratch, it's important to work with a B2B light guide engineer AND manufacturer that offers solid project management capabilities.
In addition to ensuring you have a quality end product, they'll ensure you avoid timeline delays and budget increases.
The Light Guide Design Method That Works
Our team developed an efficient, four-step illumination project process to ensure your light guide system is designed, tooled and delivered to meet your complex requirements.
Step 1: Illumination Project Discovery
Each light guide project begins with a full review of your illumination project objectives. You work with a project engineer who assesses a variety of requirements, including:
Project schedule and timing needs
Space constraints for assembly
Electrical limitations such as voltage, current and/or power limits
Optical requirements such as color, intensity and uniformity
Special components or restricted materials for the end product
Step 2: Light Guide Design
Based on your needs, the project engineer creates a custom light guide design or improves upon an existing lighting solution. You can (and should!) review and provide feedback to ensure the final design aligns with your goals.
At this stage, your engineer also explores and recommends ways to adjust the light guide design and reduce components and costs without compromising end performance. Ultimately, you and your team make the final decision.
Step 3: Prototyping
At your request, your project engineer can build prototype samples using in-house equipment at our engineering facility in Cleveland, Ohio. The prototype allows you to quantify and experience illumination performance before the design moves into final tooling and assembly.
As a B2B light guide manufacturer, we recommend you prototype designs to maximize your budget and chances of success. Learn more about the benefits of prototyping and our capabilities here.
Step 4: Tooling & Manufacturing
Once the design, pricing quotes and prototypes are approved, your project engineer moves into tooling production. Your tooling includes any components or subcomponents that support your design and performance requirements. Injection mold tooling, optical pattern designs, production fixturing and packaging are all part of this step in the total light guide design process.
Finally, your design moves into mass production. Guided by your goals, your products will be produced in quantities ranging from thousands to millions. We have several ISO- and TS-certified facilities to meet your manufacturing and delivery needs!
Throughout the entire process, your project engineer communicates and collaborates with you frequently to ensure there are no unexpected surprises at the end of the project.
Contact Your B2B Light Guide Manufacturer
You can trust our team to deliver not only a versatile light guide solution but a positive customer experience.
Contact our light guide experts today so we can get to work on your next lighting challenge.