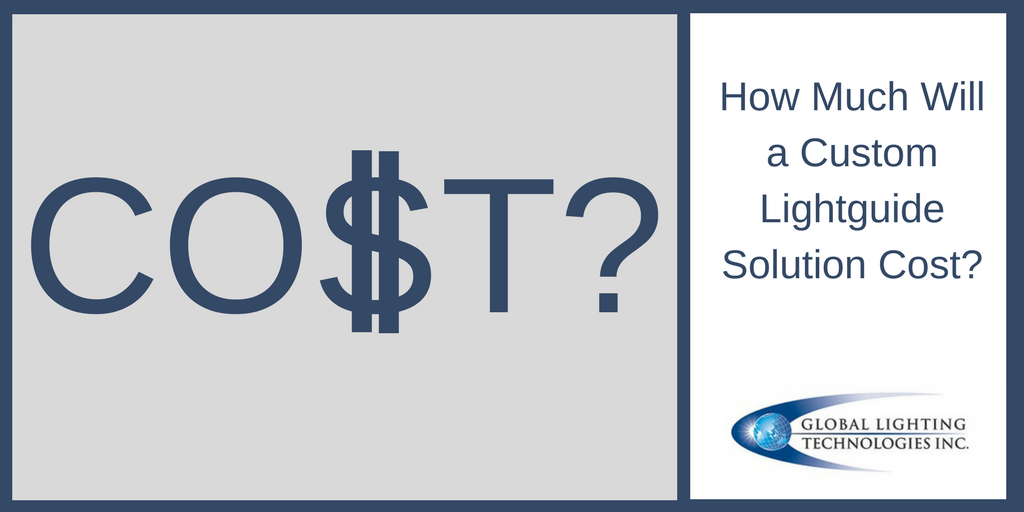 How Much Will A Custom Lightguide Solution Cost?
When developing a custom lightguide solution, there are many different factors to consider along the way, and likely many questions and concerns you'll want addressed. Beyond the specifics of the product itself, one of the largest concerns is, of course, the cost.
Determining the overall cost of a custom lightguide solution, and the breakdown per unit, is a key step. Here's a quick look at some of the largest factors that can impact your cost.
Volume
The primary factor that drives cost is always the volume of the project. As a general guideline, if the expected volume is 10,000 units per year or less you can expect an exponential increase in cost. This is due to the total cost of design and engineering remaining fairly constant across applications. This cost must be amortized over the piece price and significantly affects the costs at lower volumes.
As with any type of production, as that volume increases, the corresponding price per piece decreases. Therefore, with high volume production in the range of 50,000 to 100,000 pieces or more per year, the price of a custom lightguide on a per piece basis can be reduced to close to the cost of a standard injection molded product. This delivers great value to high volume customers.
What Costs the Most?
The LEDs (light-emitting diodes) themselves are normally the highest cost component of a custom lightguide project. Therefore, when developing a product design, starting from the LEDs being used makes the most sense both from a conceptual standpoint, as well as from a final cost evaluation standpoint.
Physical Size of the Product
The larger the lightguide, the higher the cost is going to be. That likely won't come as a surprise, but along with the cost of components such as LEDs, this is one of the biggest drivers of differing costs between otherwise similar products or product designs.
Company Minimums
Finally, keep in mind that a lot of manufacturers have minimum requirements you'll need to meet. At Global Lighting Technologies, our minimum for a custom lightguide solution is $100,000 in sales. From there, we can scale up to handle almost any volume thanks to our global facilities, skilled team, production space, and high-quality technology to deploy. Unfortunately, this means that we cannot work with everyone and are not the best fit for projects with smaller needs.
There will always be many factors to consider when it comes to determining the final cost of your project. For more information on the types of services and products we offer, contact us here. Or for direct support and with any questions, call us at 866-922-4584 and we'll be able to learn more about how we can help you achieve success with any of your needs for custom lightguide solutions.