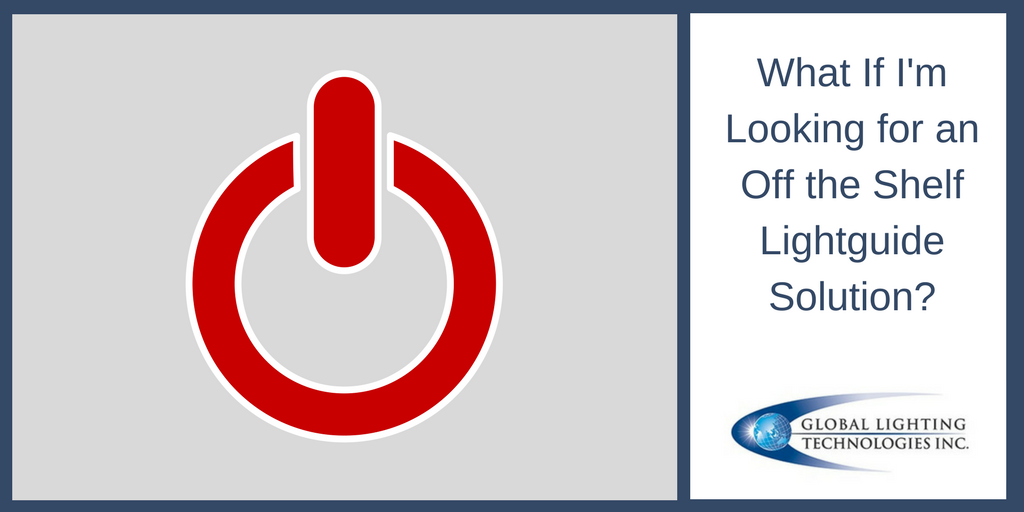 What If I'm Looking for an Off-the-Shelf Lightguide Solution
At Global Lighting Technologies, we often hear from prospective customers who are looking for an off-the-shelf solution. Unfortunately, that's not what we provide here. We do more for our clients by developing innovative, custom lightguide solutions, carefully designed and manufactured specifically to a client's needs, and we believe this offers a superior end result for you.
Every custom project we take on goes through a rigorous process that begins by ensuring we're a good match to work together. Your project then gets assigned an engineer, who will be your direct point person on the project. Your engineer then begins with your product details, evaluating the types of LEDs you need, and the quantity of LEDs your system requires, how to get the best results from your lightguide, power source requirements, mechanical constraints, and more.
Our in-house capabilities include the latest and best design software, highly capable manufacturing machinery and large scale, high-quality production environments. Along the way we're constantly available to answer your questions and accept your feedback. Everything can be tweaked, adjusted, priced, and approved before final production is commenced and completed.
After this, what gets delivered to you is an entirely unique custom lightguide solution built to be exactly what you need to get the job done, with none of the compromising, settling, or lowering of expectations that comes with a more generic one-size-fits-all system.
Ultimately, we understand that many customers don't have the volume, time in schedule, or financial ability to create a custom molded lightguide solution. If this is the case then perhaps Global Lighting Technologies may not be the right lightguide manufacturing partner for you.
However, we certainly believe the benefits of a fully custom lightguide solution are far more advantageous. Your business will receive a tailor-made system that is perfect for your exact needs. You get higher quality, from original design and conception to the actual LEDs and other components used, as well as the efficiency and performance of the lightguide. You'll also be able to rely upon us as your long-term partner, with an expert engineer assigned to your project and able to provide support and assistance along the way.
Global Lighting Technologies has the knowhow and technology to handle all types of systems, and we're confident we'll provide a custom lightguide solution that meets and exceeds your expectations. Contact us here to learn more about all our products, services, and capabilities, or call us at 866-922-4584 and we'll be happy to answer any questions.