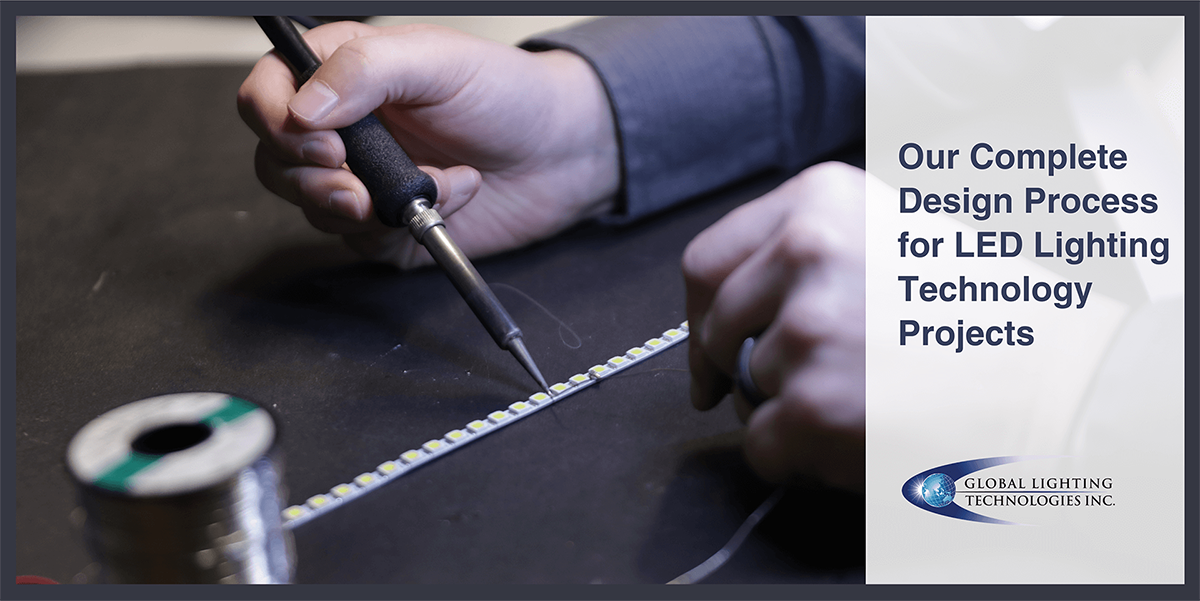 Plans to Prototype
Methodology
to Production: Our Collaborative Process
You deserve a light guide manufacturer that's laser-focused on one thing: custom edge-lit light guide illumination.  
Customers who've worked with generalized manufacturers that provide lighting as a secondary or add-on service offering often experience lackluster outputs. A laptop keyboard manufacturer, for example, isn't a light guide expert and may create a keyboard backlight that barely meets requirements. At Global Lighting Technologies, this isn't the way we do things. 
Our team prioritizes what we do best – custom light guide assemblies – so we can offer a refined, collaborative process to exceed customer expectations. The stages of our customer-centered process include Discover, Design, Prototype, and Manufacture. Read on to learn what you can expect during each stage of your project; it's a journey that ends with a fully integrated technology you can count on.  
Pre-Discover: Qualification
Before we engage with any customer, we make sure the project is a right fit for both parties. After your initial outreach, our sales and engineering teams confirm if your project is within our capabilities. 
At this stage, we look for key points of information about your project that help us determine if we can support your idea.  
Common inputs at this stage include: 
The end product that needs illumination

Project schedule or timeline

Projected production volume

Cost target

Main objective and deliverable
The information we need up front is often substantial, which is why you work with one of our skilled team members from the start, unlike other manufacturers. This ultimately saves time by determining potential obstacles that may need to be overcome throughout the project lifecycle. 
Discover: Gather Information
Once all parties agree that our team can deliver value within the context of project requirements, you'll receive a Statement of Work which details how we'll work together and acts as a binding contract. Now, the in-depth Discover stage can begin! 
You'll work with a Global Lighting Technologies engineer who will collect all the details related to your project. To deliver the best possible illumination solution, we'll ask for additional information like: 
Components to be supplied as a part of the assembly

Mechanical constraints for the solution (the area we have to work with in the final product)

Location, size, and optical properties of the surface or object to be illuminated

Specification for product illumination, including average intensity and uniformity

Power constraints of the product, including voltage and current

Color requirements for illumination

Environmental condition requirements for the end product

Any product testing requirements during automotive, environmental, or reliability testing
If you don't have this information yet, don't worry. During the Discover stage, we can make recommendations for your project that bring clarity to performance requirements, limitations, brightness and uniformity, and other product aspects. 
During one customer's Discover stage, we learned they planned to use a secondary clip to assemble their product. Our engineers crafted a solution to incorporate this feature into our molded part, which eliminated the need for the additional component. This saved our customer time, money, and labor! 
We use our decades of industry and business experience to your advantage. Our team knows the right questions to ask to get the most effective design and result for you. 
Design: Custom Designs for Your Solution
From the Discover stage, you'll be assigned a Direct Responsible Engineer. They'll collaborate with you from design to prototype through to your product's end of life. We know collaboration is key, especially during the Design stage. That's why you'll continue to work with a dedicated expert who knows the nuances of your project. 
Your Direct Responsible Engineer will be your point of contact for all updates and information requests. If design requirements change, they should be the first to know. They'll make note of your changing needs and collaborate with our team and yours to determine project feasibility. We're equipped to be adaptable if and when project and design requirements change. 
During the Design stage, you'll also review digital product simulations. Once approved, your project will move to prototyping. 
Prototype: Seeing is Believing with Prototype Methodology
The Prototype stage is essential because a physical prototype helps gain confidence with your team and approval from leadership. Prototypes help you see and judge results in real-time before manufacturing begins.  
Unlike other manufacturers who may outsource prototype production, our prototypes are made in-house by engineers at Global Lighting Technologies. Because you've been working with the same engineer from the Design stage, they have a thorough understanding of your project's needs. This reinforces quality control. Once finished, your prototypes are shipped to you for your team to review and test. 
Learn more about our prototype methodology here.  
Manufacture: Your Design, Brought to Life
Once you approve your prototype after any modifications or adjustments, it goes into the Manufacture stage. Your design is sent to one of our five ISO- and IATF-certified manufacturing facilities around the globe for consistent, high-volume production. We produce in quantities of thousands to millions through the process of injection molding, roll to roll embossing, or extruded embossing. These are they key traits of each process: 
Injection Molding:

We use an insert containing the optical extraction pattern within the mold to create the custom light guide.

 

Roll to Roll Embossing:

A thin PC film is embossed with a custom light extraction pattern then die cut to its final size.

 

Extruded Embossing:

Custom extrusion creates the light guide profile and thickness which is embossed with a custom light extraction pattern.

 
Once your product is in production, our sales team will become your main point of contact again. They'll see your project to completion, but your Direct Responsible Engineer will still be looped in to solve any technical issues that arise. During the production stage, we ship products directly to your facility or to a contract manufacturer, according to your direction. 
Leverage Our Proven Process for Your Custom Lighting Solution
Our process has been refined over decades of working with customers around the globe. When you trust your project to Global Lighting Technologies, you can rest assured it will exceed your expectations. We focus on what we do best – custom light guide assemblies – while some of our competitors only provide lighting as a secondary service offering.  
Our goal is to create the best, most uniform light guide technology to elevate your products. Learn more about our capabilities, assembly configuration, and light guide handling tips in our Application Guidelines or connect with our team to inquire about a project.