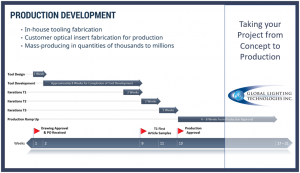 Step 1
Provide details on your project to the GLT team to initiate work including the following:

Description of final product.
Details regarding  what will be illuminated.
Target illumination specifications (Brightness & Uniformity)
Schedule for product.

GLT will review the project information to determine if it meets our project requirements and an engineer is assigned to work directly with you on the design.
GLT engineering will begin work on a concept proposal.

Initial concept will require you to provide 3D models and mechanical/electrical constraints.

If 3D models are not available, in some cases the team can complete the concept by utilizing overall mechanical constraints and descriptions.

Concept lightguide can typically be completed within a week of the design review.  The time to complete this concept is dependent on the complexity of the design and the quantity of components within it.
Once the concept design is completed it is share with you for review.
Step 2
Once the concept is reviewed by you, the engineering team will move onto completing the product proposal.

Design of product is reviewed with the entire team at GLT including our manufacturing and optical engineers to review any potential concerns with the design.
Cost of manufacturing and assembly is reviewed, and a quotation is completed.
Proposal is provided to you by the GLT Sales Team.
Step 3
Customer review of proposal, approval, and project kickoff.
The chart below shows a typical schedule from approval and kickoff of tooling to shipment of product.  The schedule includes optical iterations which are used to fine tune the performance of the product.