Unique LED-Based Edge Lighting for Automotive

Global Lighting Technologies (GLT) Inc. offers new and original illumination solutions utilizing its LED-based lightguide technology. GLT's edge-lighting technology couples the light of LEDs placed along one or more edges of a thin lightguide in order to deliver the light precisely where needed, providing bright, uniform light in a thinner form factor with more efficient light extraction and fewer LEDs.

Display Backlighting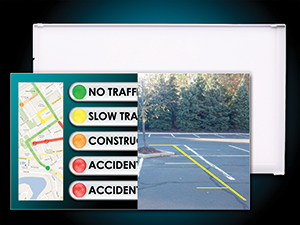 Applications include backlighting of automotive interior displays such as digital instrument clusters, infotainment systems, GPS displays, DVD players and other daylight-readable displays used in cars and minivans.
GLT also offers high-brightness backlight solutions for high efficiency sunlight-readable displays. GLT can design and build high brightness lightguides in different sizes to fit customer requirements. These lightguide assemblies utilize mid-power LEDs mounted on a metal core PCB with passive thermal management and can be seamlessly integrated into customers' end product displays.

Custom Illumination Solutions
GLT also creates custom lightguides to illuminate HVAC controls, PRNDL shift indicators and door sills as well as dome lights, map lights, and accent lighting. Edge-lit light guides are also being used to illuminate door handles and manufacturers' logos on the inside and outside of a car, as well as in an innovative braking light system that employs four light guides, one on each side of the car and two in the trunk lid, to illuminate the well when the lid is opened.
With five manufacturing facilities in the Far East, GLT is poised to deliver a better lightguide at lower cost with faster turnaround.