Custom Automotive Lighting Applications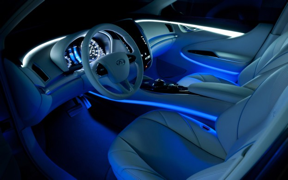 Using our highly efficient light extraction methods, GLT's LED based edge lit lightguides provide illumination where necessary within numerous automotive applications. Regardless the look or effect you're trying to achieve, Global Lighting Technologies will ensure that you're successful, and we're confident you'll love the finished product.
Our automotive lighting solutions include but are not limited to:
Map/Navigation
Information
Entertainment
High Brightness Backlighting of Rear Camera Display
Shifter PRNDL
Analog Clock
Instrument Panel
User Interface Panel
Dome Light
Map/Visor Light
Foot well/Map pocket
Dash/Door/Handle
Illuminated Door Sill Plates
Key Performance Advantages:
Higher Brightness
Better Uniformity
Fewer LEDs
Less Power
Thinner
With Global Lighting Technologies, you'll enjoy a superior product at a better price. Learn more about our custom automotive lighting solutions by calling 440.922.4584 or click here to contact us.