Capabilities & Technology for LED Backlighting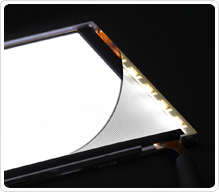 Global Lighting Technologies continues to stretch the boundaries of what a company can do to provide a custom LED backlighting solution that optimizes the performance of your information display. We stand out from the competition and will produce superior results, regardless of your specific application or need. Here's why:
GLT is a Technology-Based Company
Strong intellectual property position
Current engineering staff of 70+
Product and process R&D
Precise optical design and processing
3-D CAD/CAM
3-D Optical ray tracing
Proprietary optical design software for optical pattern development
Precision in-house equipment produces optical path
In-house prototyping (GLT USA)
GLT makes continuous improvements in LED backlighting technology.
Ongoing advancements in light guide design
Improved light distribution techniques
Improved light extraction techniques
Evaluation and development of films for lighting applications
Process development
Don't settle for anything less than innovative, customized LED backlighting solutions from Global Lighting Technologies. From our unmatched optical design software, to our massive production space, and our large in-house engineering team, we can do it all. Click here to get started, or give us a call at 440.922.4584.