LED Backlighting and Lightguides for Graphics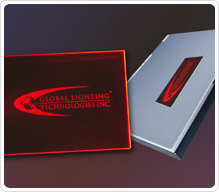 GLT backlights and lightguides can offer the customer custom illumination of graphics and logos. This could range from a small backlit panel for the logo on the outside of a notebook computer to illuminating a mid-size to large overlay.
Using an LED backlight for graphics and logos allows a customer to uniformly and efficiently illuminate the end products. Can be designed with virtually any text or image for applications including computer towers, notebook computers, consumer electronics, appliances, automotive dashboards and exteriors, and many others.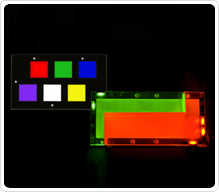 GLT has introduced new high-brightness LED backlight assemblies that enable independent control of the brightness and color of individual zones within the backlight. These LED backlighting modules are designed and constructed utilizing GLT's micro optical light extraction technology to be user-addressable so that the end user can design and supply circuitry to control each LED's color and intensity. This feature can be used to achieve color fading, pulsing, or steady state illumination, and can be utilized in a wide array of consumer electronics displays as well as in keypads / keyboards used in mobile phones and laptop and desktop PCs.
Learn more about what you can accomplish with an LED backlit display from Global Lighting Technologies. Click here or give us a call at 440.922.4584 to get started today.