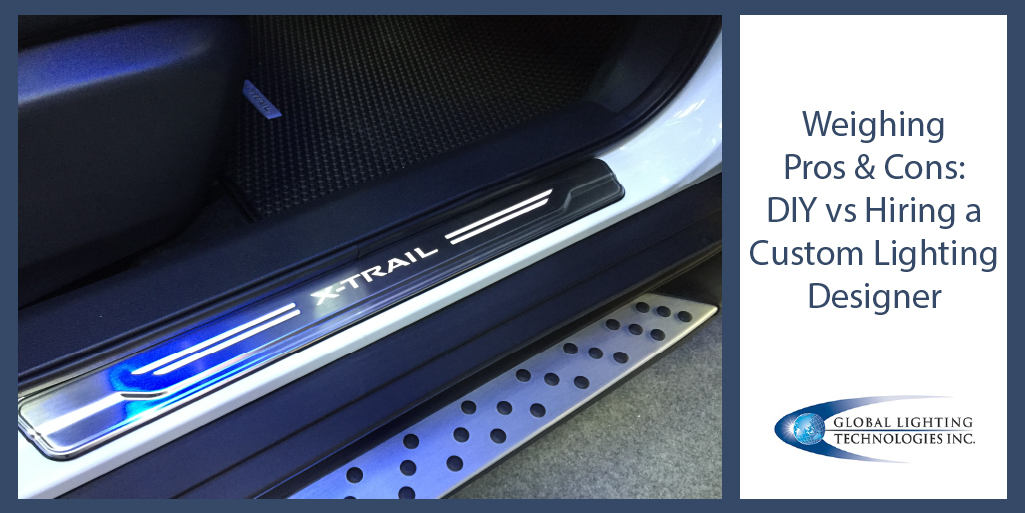 Weighing Pros & Cons: DIY vs Hiring a Custom Lighting Designer
 When starting a new project, deciding if your business will hire a custom lightguide designer or design it in-house is an important (and often daunting) decision. There are potential advantages and drawbacks to either choice, so take the time to investigate which may be the better route for your unique situation. We've compiled a list of pros and cons to help you as you begin evaluating your options.
In House DIY Pros & Cons
PROS
Affordability:

By keeping everything in-house, you avoid markups from the manufacturer or other intermediaries.

Your Design:

If something is developed internally, you own all of the rights to the design and its components.

Speed:

Internal project teams won't have to worry about communication with external partners, which can slow down the process.
CONS
IP Questions:

While you will own your design, you may not have the necessary knowledge to know if you're infringing on someone else's IP.

Knowhow & Capabilities:

Keeping things in house may be cheaper, but your staff may not have the experience and knowhow to get the job done, or the tools and equipment to do so effectively.

Scale:

If your project is successful, you may not have the capabilities to scale up production.
Custom Lighting Designer Pros & Cons
PROS
Proven Capabilities:

Hiring a custom designer gives you proven capabilities, experience, and expertise to help ensure the quality of your project. The staff will also have the requisite training and experience to get the job done, with no need for internal training or investment.

Technology: 

A partner company which specializes in custom lightguides will be able to offer the latest and most innovative approaches, with the best technology, including their own IP which may be difficult to find elsewhere.

Design & Development:

Custom lightguide designers will already have the most powerful software and design tools at their disposal.

Scalability:

Your designer will be able to grow and scale with you, which helps reduce costs and enable future success.

Costs: 

A professional lightguide designer will already the tools and software necessary to design and produce lightguides.  By amortizing these costs across the entire business it can be far less expensive than adding these costs for a single project.
CONS
Potential Costs: Hiring a manufacturer 

may end up being the more expensive choice. However, those costs will include the aforementioned access to technology, design tools, and experience, and will save you from having to make those upfront investments internally.

Logistic Issues:

International manufacturers will have to ship products to you, with concerns of timing, along with potential duties or taxes. Another logistical concern could be cross-time zone communication issues.
There's no one-size-fits-all solution, and the best choice for you may not be best for someone else. Be sure to carefully weigh all of the above considerations, and speak with those in the field who have the knowledge and expertise you're seeking to help you make an educated decision. Global Lighting Technologies is known for their innovative custom lighting solutions. Continue exploring to learn more about our capabilities and services, request a quote, or call us at 440-922- 4584 for immediate assistance.