Custom Light Guide Solutions Enhance Your Customers' Experience
Backlight bleed is a byproduct of many illumination projects in any industry. Backlight bleed is light emitted from a product that goes where it's not intended or desired. Light will continue to travel in one direction until a material or surface structure stops or redirects it.
Take an illuminated laptop keyboard, for example. Global Lighting Technologies engineers create backlights to illuminate the keyboard, meeting all specifications, but we take it a step further than other manufacturers.
Our light guides strategically block the light and prevent it emitting from places like hinges, speaker vents, or USB/video ports. Our engineering team is specially trained to address backlight bleed through the design process, either by instituting proven methods or innovating to achieve a precise result.
Our Approach to Reducing Backlight Bleed
Unlike other manufacturers who only meet minimum technical requirements, our approach to light guide design ensures there is as little backlight bleed as possible. We accomplish this through our team's extensive technical skills, like using light ray tracing software to determine where the light travels within a panel to reduce it.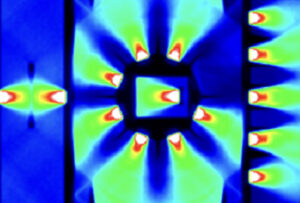 Read on to discover how Global Lighting Technologies exceeds customer expectations with a proven process and revolutionary technology.
Design & Materials
Both design and materials are critical to designing light guide assemblies that reduce backlight bleed. One design option is to configure the light guide so light isn't directed toward areas where it shouldn't be. We accomplish this by adding optical structures and features to stop light from traveling.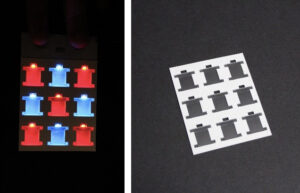 Another option is to reduce the amount of light emitted. We do this by only placing structures where light is intended to be extracted. Additionally, we can reduce backlight bleed by blocking off the area that shouldn't be illuminated with additional material.

In addition to strategic design, the materials we use in our light guides play a large role in reducing backlight bleed. Components of a light guide assembly can transmit, reflect, or absorb light; we use these properties to our advantage individually or combined, depending on the nature and desired outcome of the light guide. To reduce light bleed in unwanted areas, we may also add reflective or absorbing materials like films and coatings to reflect or absorb light that hits it.
Collaboration is Key to Our Process
As with every project, collaboration is key to the success of your design. We aren't just a parts manufacturer, we're your partner! Our team gets to know you, your team, and all the technical requirements for your project.
Collaboration starts with our first meeting where we learn about your needs and expectations. From there, we provide feedback based on our capabilities. Decades of industry experience have made our team illumination experts; we know what questions to ask during our collaborative process to make sure the product exceeds your desired performance.
We work closely with you to make necessary adjustments that ensure the light guides in your products perform the way you want them to. Learn what makes our process different and more collaborative than other light guide or parts manufacturers. 
Busting Backlight Bleed Myths
There are many industry misperceptions about backlight bleed, so we work to educate our customers about truths around this complex topic.
One myth is that black surfaces reduce backlight bleed. This isn't the case because black surfaces absorb light, which can reduce the overall efficiency of the light guide assembly and end product. We know that it's more effective to use white surfaces because they reflect light and emit it in the desired area of illumination.
Another common myth is that a colored overlay will stop light from transmitting. In reality, if the light is intense enough, it may shine through even dark colored material.
The best course of action to understand how you can overcome backlight bleed is to work closely with a manufacturing partner like Global Lighting Technologies. Our sole focus is on light guide assemblies to help you exceed your goals, not just meet them.
Tackling Backlight Bleed & All Your Custom Light Guide Design Needs
From backlight bleed solutions to other custom light guide design requirements, work with a team dedicated to doing things right. Our proven process, industry expertise, and revolutionary technology support your team during all the critical stages of bringing your product to life.
Connect with the Global Lighting Technologies team to start your next illumination project.