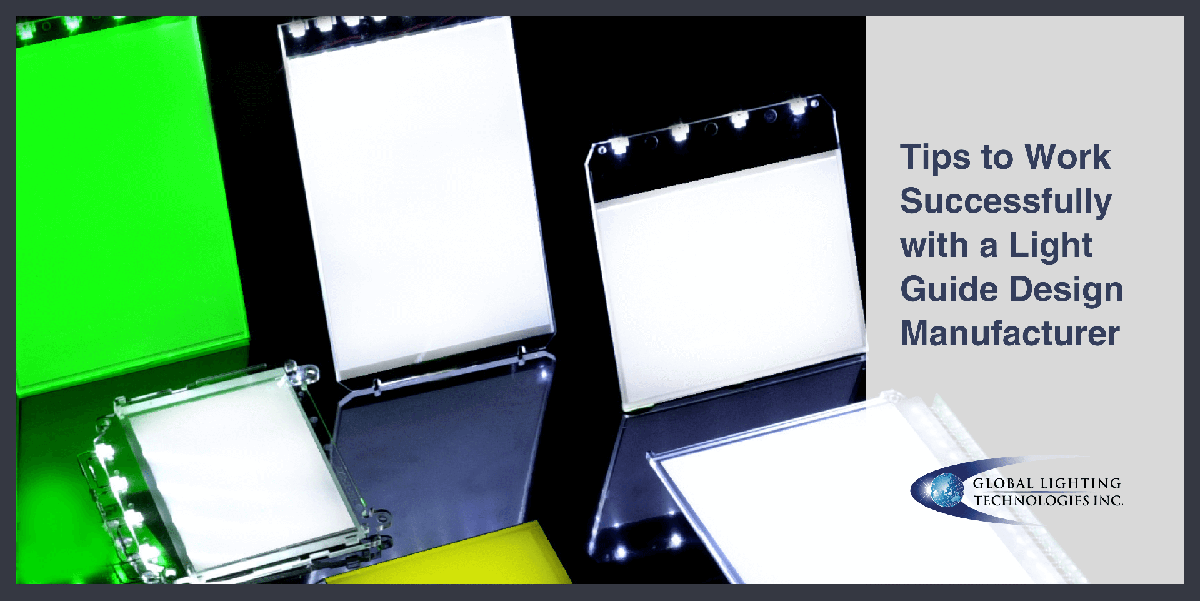 How to Find & Collaborate with a Strong Light Guide Design Manufacturer
You have a light guide design project that you'd like to bring to life. Now, it's time to evaluate light guide design manufacturers to support you! This is an exciting time but there are many considerations ahead to choose the best manufacturer for your goals and requirements.  
It's crucial to remember that this is a collaborative process where you'll need to work hand in hand with your light guide design manufacturer on steps like goal refinement and prototype methodology. Read on for our experts' top seven recommendations on how to set up your illumination project for success when working with a new light guide design manufacturer. 
1. Define Clear Light Guide Project Goals and Requirements
Before you engage a light guide design manufacturer, you should have your project goals and requirements in mind. Begin with a comprehensive needs analysis and identify specific objectives for your illumination project. At this stage, you'll also want to determine technical specifications, constraints and any specific project requirements.  
This is all key information your light guide design manufacturer needs to effectively execute your requests. It's helpful to collect all your goals, requirements and any other related information in one document or presentation you can share with the manufacturer you choose. 
2. Research and Select a Reputable Light Guide Design Manufacturer
Once you have your goals and requirements in place, you can begin to research and evaluate different light guide design manufacturers. The first avenue of manufacturer vetting is usually done online; review portfolios, case studies, process and capabilities pages of potential manufacturers on their websites. You can take a look at our comprehensive process here. 
In addition to online research, try to seek recommendations from industry peers who have worked successfully with manufacturers in the past. For all manufacturers in your consideration set, assess their expertise, experience, track record and client testimonials to select the manufacturer that aligns with your project requirements. 
3. Establish Effective Communication Channels
Open and transparent communication is vital throughout your project, from initial outreach to product delivery. It's helpful to identify key project stakeholders and define their roles so your team and your light guide design manufacturer both understand who is responsible for what.  
Also establish regular communication channels and schedules to facilitate smooth information exchange. At the onset of your project, you may need weekly check-ins to share information and receive updates. During these meetings and in between, clearly communicate your expectations, deliverables and project timelines.  
Finally, it's important to promptly provide your feedback on designs and progress to ensure timely adjustments and improvements. 
4. Foster a Collaborative Relationship
Remember, this is a collaborative process! When you cultivate a partnership mentality with your light guide design manufacturer, it can lead to greater innovation. Be open to different methods and approaches and look for opportunities to combine the best of both teams' ideas.  
As you foster an environment that promotes open dialogue, idea sharing, and creative problem-solving, don't forget to proactively address challenges and conflicts. This helps maintain a productive working relationship. 
5. Prioritize Design Validation and Prototyping
The best way to evaluate if your product design meets your goals and requirements is to prototype. Our prototype methodology and process includes close collaboration with our clients to ensure we met their unique specifications. We outline the top reasons prototypes enhance the design process here. 
Participate actively in design validation and prototyping stages to ensure the developed solutions align with your original needs. Have your team review prototypes, conduct thorough testing and provide constructive feedback to your light guide design manufacturer. Incorporate changes and refinements based on the results to achieve optimal outcomes. 
6. Monitor Light Guide Project Timeline and Budget
As you continue to collaborate with your light guide design manufacturer, monitor your project timeline and budget regularly. This helps you identify and fix any discrepancies as early as possible. If there are issues, proactively address them and communicate with the manufacturer to mitigate risks. Transparent communication is key to staying within the defined budget! 
7. Maintain a Long-Term Relationship
At Global Lighting Technologies, we value our strong relationships with customers. Because successful illumination projects often require ongoing support and future enhancements, consider the possibility of maintaining a long-term relationship with your light guide design manufacturer. Nurture your new relationship to ensure consistency and leverage their expertise for future projects. 
Light Guide Design Manufacturers: Key Partners for Your Success
When it's time to partner with a light guide design manufacturer, it can seem daunting to choose the right one for you and maintain a strong relationship. The good news is you're now armed with the information you need to make informed decisions throughout the lifetime of your new relationship. For more insight, review the top seven capabilities to look for in a light guide design manufacturer here. 
A strong foundation, clear communication, collaborative spirit and meticulous attention to project details will contribute to the achievement of your desired outcomes. Work with a manufacturer like Global Lighting Technologies to bring your next illumination project to life. Connect with our friendly team of experts here!