What Are Vehicle Displays & Interfaces?
Vehicle displays and interfaces are the primary communication tool between drivers and their cars. A well-designed display and interface system can greatly enhance the driver's experience, which makes it easier to navigate and control the vehicle's features. It's essential for the displays and interfaces to provide clear, concise, and intuitive information in a variety of driving conditions. This is where light guide design plays a key role.
On-trend vehicle displays and interfaces like the automotive cockpit, touchless control, head-up displays, freeform optics, holography, smart windows, and the latest bonding and coating technologies will take center stage at the 2023 Vehicle Displays & Interfaces Symposium. Read on for a vehicle displays and interfaces primer to help you learn more about this exciting area of light guide solutions!
What Is The Role Of Light Guides in Vehicle Display & Interface Illumination?
Vehicle displays and interfaces include important car features like the driver information display or instrument cluster, center stack display, infotainment display, rear-seat entertainment display, side mirror, and rear-view mirror display. Displays and interfaces are also contained within steering wheels, a-pillar, and other unique areas of the vehicle. Well-designed light guides make them even more impactful. In addition to providing clear visibility, light guides contribute to the aesthetics of the vehicle's interior.
At Global Lighting Technologies, we create custom light guides that seamlessly integrate into a vehicle's overall display system to create a modern and sophisticated look that doesn't sacrifice visibility. From light guides within volume and air conditioning controls to charge ports and LCD backlights, we work with respected automotive manufacturers to elevate their vehicle displays and interfaces.
It's important to note that illumination for vehicle displays and interfaces is just one aspect of a vehicle's overall lighting system. Our team also crafts selective illumination solutions for rear camera display backlighting, foot well pockets, door sill plate designs, decorative illumination for interiors and exteriors, and more. Learn more about our selective illumination for automotive applications here.
What Does the Future Hold for Automotive Lighting?
The Global Lighting Technologies team is excited to attend and be a corporate sponsor for the 2023 Vehicle Displays & Interfaces Symposium in Detroit, Michigan. Be sure to visit booth 811 and meet members of the Global Lighting Technologies team! There, attendees can expect to learn about advancements in the industry and view cutting-edge technology on display.
One trend that our team has noticed over the past few years is the size of vehicle screens. Consumers have become primed to expect bigger and better screens year after year, which means manufacturers must level up their light guide design technology to stay competitive. We expect this trend to continue and evolve as lighting and light guide technology becomes even more sophisticated.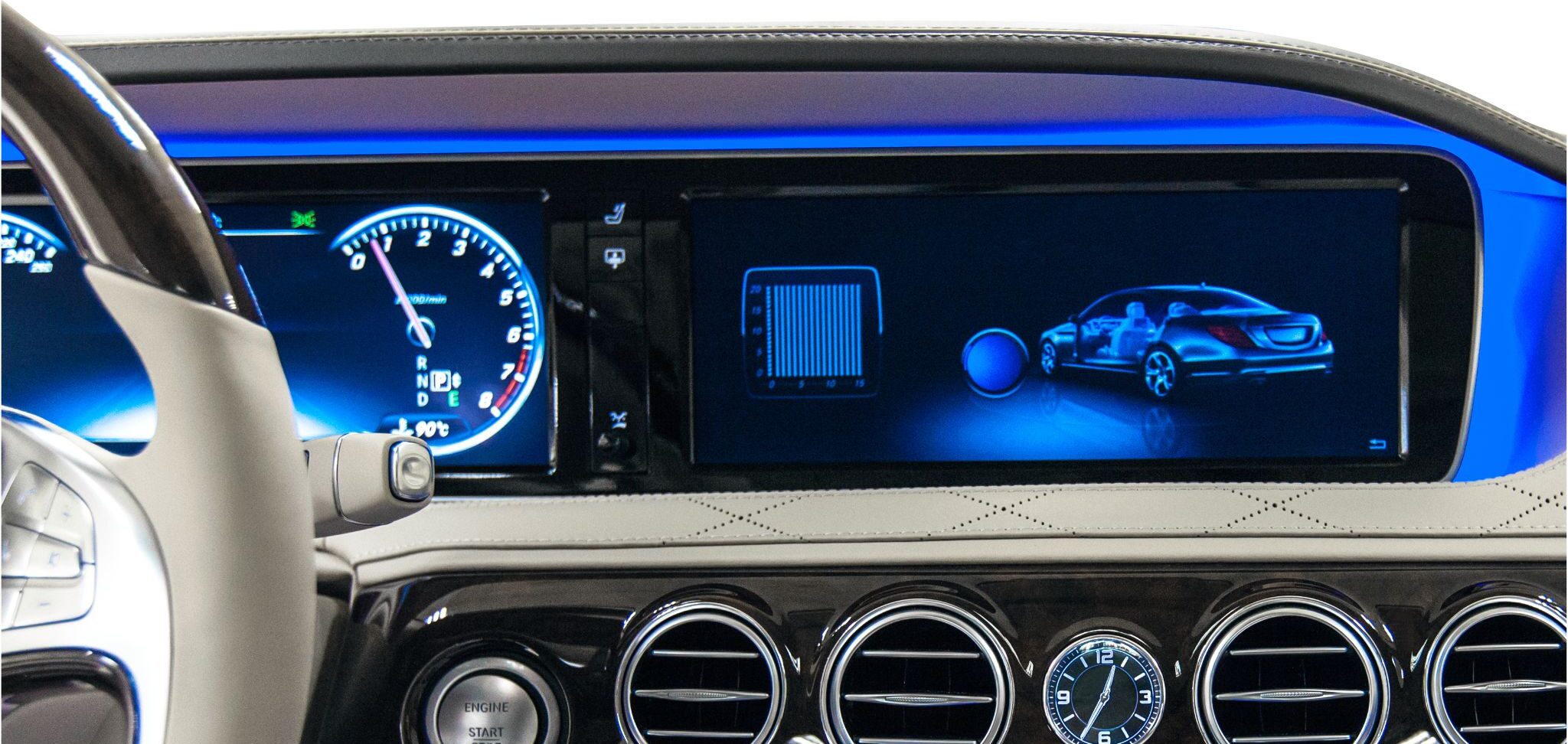 Other trends include the rapid adoption of LED technology in every aspect of vehicle illumination and adaptive lighting systems. Smart (adaptive) lighting systems allow drivers to customize the illumination experience to their driving habits, needs, and visual preferences while larger, more prevalent screens connect all car passengers to the system. A notable recent example is the  Mercedes-Benz S-Class. It incorporates a large digital cockpit, back seat screen, and a customizable set of interior and exterior LEDs.
Our Unique Approach
The Global Lighting Technologies team has been deeply invested in the automotive manufacturing industry for decades where we focus on what we do best: edge lit light guide technology.
Our customers leverage our long, successful history of automotive product design and mass production at our global factories to create custom light guide solutions. Connect with our team to learn more about how our design and production capabilities can support your goals.